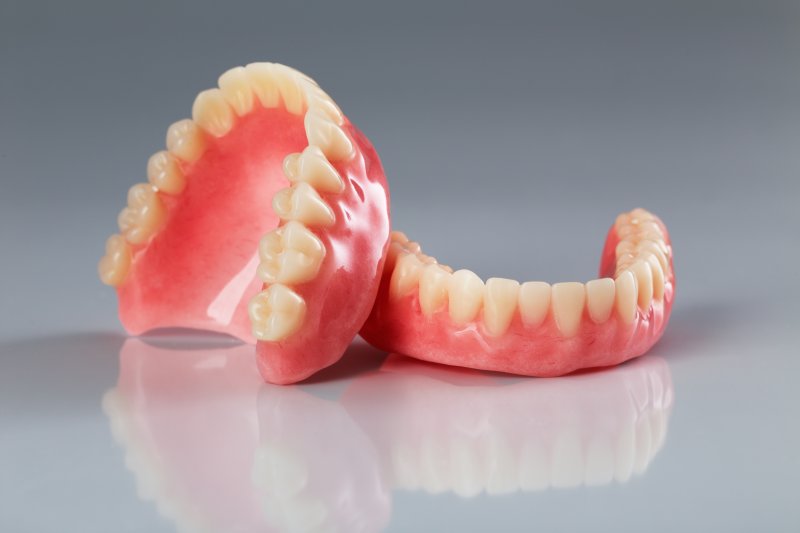 Dentures today fit more comfortably and appear more lifelike than they ever have before, and they deserve to be taken care of so they can look their best for all of your social situations. Like real teeth, dentures need to be cleaned regularly to stay white and bright. Here's what you should know about what you can do to keep your appliance in top shape.
What Can I Do at Home to Keep My Dentures Looking Great?
Using a non-abrasive dental cleaner and a soft-bristled brush is often all you need to restore your dentures to their original whiteness. Gently brush your appliance using the cleaner and warm water to remove debris and plaque. When you take your dentures out before bed, soaking them in an approved denture cleaner can help loosen and remove stains and buildup from their surface while also eliminating bacteria that can cause troublesome oral infections.
What Can My Dentist Do to Brighten My Dentures?
If you aren't making much progress cleaning your dentures at home, your dentist might be able to get the results you want. A professional denture cleaning can eliminate surface stains and polish your appliance until it looks brand-new in only a few minutes. Dentures typically need this treatment twice a year, but your dentist might recommend more than that.
What Whitening Methods Should I Avoid?
Some methods for whitening and cleaning teeth should not be used with dentures. A few things for denture wearers to avoid include:
At-home teeth whitening products: Over-the-counter whitening kits or toothpastes can be harsh on your artificial teeth.
Abrasive cleaning products: Some toothpastes and cleaners can be too abrasive for your dentures, and a stiff-bristled brush can scratch their surfaces. Using these products can ruin their sheen.
Hot water: Exposure to heat can permanently warp your dentures. Never use hot water to clean them.
The best way to prevent denture stains is by cleaning them daily. Remove your dentures every night before bed, rinse them with warm water, and gently brush them with denture cleaner and a soft-bristled toothbrush. Taking care of your dentures will keep your smile beautiful.
About the Practice
Sage Dental Care provides top-quality dentistry at two comfortable and friendly locations in Reno, NV. Led by Drs. Josh Branco and Ah Young Kim, the practice offers a full spectrum of dental care to keep patients smiling beautifully for life. Services include preventive, restorative, cosmetic, and emergency dentistry in addition to denture treatments. For more information on keeping your dentures stain-free, contact the office online.