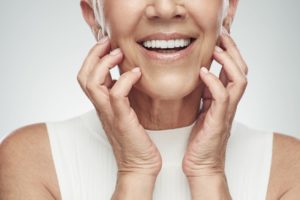 Many aspects of our lives change as we grow older, and our teeth are no exception! Over the years, natural wear and tear leads to discoloration, misalignment, breaks or chips, and even tooth loss. Fortunately, cosmetic dentistry offers solutions that can restore your smile to its former splendor and reduce the appearance of aging. Keep reading to learn how!
Brighten Your Teeth
Consuming certain foods and beverages can certainly stain your teeth over time, and so discolored teeth can betray your age. There are a few treatments to consider that can help with this dilemma. For example, a simple teeth whitening treatment might be all you need to feel like you've returned your grin to its glory days. If that doesn't quite meet your needs, you might also consider:
Veneers. These are composed of durable porcelain that is customized to match (or brighten!) the color of your teeth. They are bonded to the front of your natural tooth and act as a cover to hide flaws as well as prevent additional decay.
Dental crowns: Like veneers, these are made from a protective porcelain, but these are customized to cover your natural tooth like a cap that safeguards your teeth from further damage.
These options also reduce the chance of future signs of aging because the hard material is stain-resistant. You'll be able to enjoy your favorite foods and drinks knowing your smile won't tarnish with time!
Restore Your Facial Structure
Did you know that tooth loss greatly impacts the shape and health of your entire face? The gaps left behind by missing teeth cause your bone to reabsorb the surrounding bone mass, which changes the shape of your jaw and leads to the appearance of sagging cheeks.
According to the Centers for Disease Control and Prevention (CDC), nearly 1 in 5 adults aged 65 or older have lost all of their teeth. Thankfully, you can reverse the effects with dental implants that fuse with and stimulate your jawbone, so your features retain a more youthful appearance!
Remodel Your Mouth
Your teeth can also become chipped, develop cracks, or shift over the years. Cosmetic treatments like veneers, crowns, or cosmetic bonding can hide or cover such imperfections. Meanwhile, dentures, bridges, and dental implants fill in any gaps and ensure your teeth stay put. With the right hardware, you can entirely refurbish your mouth as needed so that you'll be showing off a more youthful grin in no time.
These are just a few of the ways that cosmetic dentistry can reduce the signs of aging so that you can wave goodbye to imperfections and preserve your revitalized smile for years to come!
About the Practice
Drs. Josh Branco and Ah Young Kim at Sage Dental Care use the latest advances in technology to provide hands-on, modern dental care to patients of all ages. They are passionate about ensuring each person finds the best available treatment for their oral health needs ranging from preventative care to restoration. If you are interested in a cosmetic consultation, please feel free to contact the office on the website or by calling one of their office locations.
North Reno Office: (775) 677-0790
South Reno Office: (775) 409- 4282