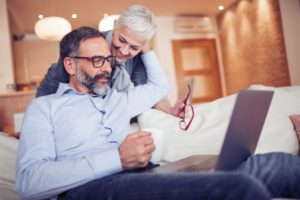 Along with age comes changes to your body, and while the first one that may come to mind are grey hairs, you may be surprised to know that aging can also impact your oral health. By knowing what oral health conditions you're at an increased risk of developing when you're older, along with a good dental hygiene routine, you can preserve your natural pearly whites for a lifetime. Read on to learn about some of the individual oral health challenges you may face as a senior.
Aging & Dental Health
The Centers for Disease Control and Prevention's research shows that around 34 percent of adults in the United States over the age of 65 have lost six or more teeth to common oral health problems like gum disease and decay. Aging can impact your body in a variety of ways, from aches and pains to wrinkles and grey hair, but one that many don't talk about is your oral health. When you know what oral health issues you're up against, you'll be able to take preventive action to keep your smile whole and healthy.
Oral Health Concerns for Seniors
As you get older, you'll be at an increased risk of specific dental conditions, like the ones listed below:
Decay: While cavities can form at any age, years of dental use can wear down the protective enamel of your mouth, making your teeth more vulnerable to decay. If you have also endured gum recession as a result of periodontitis, your roots can also be at risk of becoming infected and decayed, which can lead to tooth loss.
Gum Disease: Gum disease is one of the most common oral health problems, estimated to impact one out of every two adults in the country. Reports from the CDC show that two out of every three adults 65 and older are affected by this condition. As it progresses, it can lead to the erosion of the supportive structures of your smile, ultimately causing loose teeth.
Dry Mouth: Dry mouth, clinically known as xerostomia, isn't just uncomfortable. When there's not enough saliva being produced in your mouth, it can lead to the accumulation of harmful oral bacteria that are known to cause decay and gum disease.
Oral Cancer: Oral cancer is most known to impact those over 40, but with early diagnosis, there's a higher chance of successful treatment.
Tips for Maintaining a Natural Smile for a Lifetime
As you age alongside your pearly whites, it's important to maintain a good dental hygiene routine, including brushing twice a day, flossing daily, and visiting your dentist every six months for checkups and cleanings. While these tasks may take a few minutes out of your day, it'll pay off because you'll be able to preserve your natural, healthy teeth!
About the Practice
At Sage Dental Care, our team is led by Dr. Josh Brando and Dr. Ah Young Kim. With decades of collective experience underneath their belts as well as countless hours of advanced training in specialty services like CAD/CAM digital dentures and TMJ therapy, patients are able to take care of all of their needs under one convenient roof. Visit our website or call 775-677-0790 today to schedule an appointment.