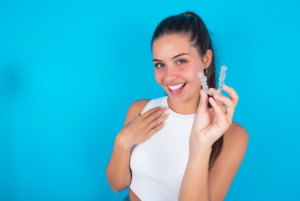 When it comes to straightening teeth, Invisalign is one of the hottest orthodontic treatments around! These awesome clear aligners can reshape smiles in a convenient, and often notably discreet, manner! However, if you're nearing the finish line of your Invisalign journey, your provider might've informed you that refinements might be necessary to ensure that your results are satisfactory. Here's more about what Invisalign refinements are and why they're often a necessary part of the treatment process.
What Are Invisalign Refinements?
You probably already know that the Invisalign process is considerably shorter than the timeline for traditional orthodontic treatment; the clear aligners generally take anywhere from 12 – 18 months to realign teeth, whereas braces can take much longer in certain situations. However, the length of the Invisalign process can also greatly vary due to discrepancies in how often patients wear their aligners; patients who don't adhere to the 22-hour rule usually experience lengthened timelines.
However, whether or not a patient's good about wearing their aligners frequently, sometimes a little extra help is needed toward the end of the Invisalign process—and this is where refinements come into play. These are essentially just extra sets of Invisalign trays that are meant to "refine" your smile as needed. They aren't very different from the aligners you've been wearing, and they'll also need to be worn frequently.
Why Are Invisalign Refinements Sometimes Necessary?
There are quite a few reasons for possibly needing Invisalign refinements. Generally speaking, some things are simply out of your and your dentist's control, including stubborn teeth! Even if you comply with your guidelines, you could still end up needing refinements. Here are a few possible explanations for needing refinements:
Not wearing your aligners often enough or for the correct amount of time every day.
Going through a long period without wearing your aligners, sometimes onset by injury or illness.
Having teeth move differently than anticipated.
Is There Anything I Can Do to Avoid the Need for Invisalign Refinements?
Even though you or your dentist can't predict the future and know for sure whether or not you'll need refinements at the end of your Invisalign treatment, there are still ways you can lessen the likelihood of needing them—and it all boils down to following your Invisalign guidelines closely. Consider the following tips:
Wear your aligners as instructed; 20 – 22 hours every day is the general expectation but refer to your provider's instructions.
Maintain excellent oral hygiene by brushing your teeth after every meal and also keeping your aligners pristine; an unclean mouth will increase the likelihood of oral issues that have the tendency to delay the Invisalign timeline.
Keep tabs on your aligners when they aren't being worn or cleaned by storing them in their carrying case to ensure their safety. Lost or broken aligners will cause delays in your treatment, which will increase the likelihood of needing refinements later on.
Needing Invisalign refinements does not mean that you've failed your Invisalign treatment; usually, it simply means that your teeth need a little extra help reaching the finish line, and that's nothing to be ashamed or embarrassed about! It's just a final step in the process that ensures your results look as dazzling as you're hoping for!
About the Author
Dr. Josh Branco received his DMD from Boston University and completed his post-doctoral residency at the UNR School of Medicine, and he's proud to provide an exceptional level of dental care for his patients in the Reno, NV area! His practice offers a wide range of preventive, cosmetic, and restorative services that are certain to help you achieve optimal oral health. He's also a certified Invisalign provider. If you have any questions about the article or would like to arrange a visit for you or a loved one, you can contact Dr. Branco through his practice's website or over the phone for further assistance. North Reno Location: (775) 204-1975.