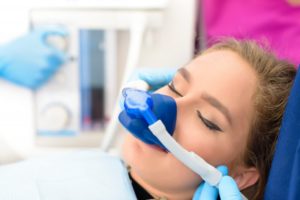 Many people avoid dentists or delay treatments due to their fear of pain. Dental sedation has been a wonderful tool to soothe anxieties so you can take care of your oral health by attending your biannual checkups and cleanings. Oral conscious and nitrous oxide sedations have paved the way for you to have your most beautiful, healthy smile! But did you know that these dental sedations help more than just anxiety? Here are five ways these calming treatments can benefit you and your smile!
#1. Faster Appointments
When sedation dentistry is used, less time will be needed for your dental procedure. As you relax, you'll naturally move less, making it easier for your dental team to work efficiently. Your dentist will be able to quickly complete your treatment as you relax in the examination chair.
#2. Allowing Full Consciousness
Since you will be fully awake and cognizant, you will be able to respond to verbal commands and physical touch. This also helps your dentist accomplish the goals of your procedure.
#3. Relieving Your Memory from the Treatment
You will not remember most of what happens during your dental work due to sedation. This is beneficial because it alleviates any negative connotations with your procedure. The time will also fly by!
#4. Get More Done for Your Smile at One Time
Multiple dental procedures can be completed in one appointment with sedation dentistry. You will be relaxed enough to sit for an extended amount of time and your dentist will be able to work more quickly, so all your dental needs can be met in one appointment!
#5. No Extra Recovery Time
Sedation dentistry can help you get your dental work done without putting the rest of your day on hold. Nitrous oxide sedation wears off within minutes of the completion of your treatment, so you'll be back to your normal level of consciousness in no time. This means you could visit your dentist during your lunch break and return to work after your appointment with no downtime. You can continue your day without the grogginess and recovery required from general anesthesia.
There are so many benefits of sedation dentistry that go beyond just helping with dental anxiety. Next time you are in need of some dental work, consider all the advantages so you can continue toward your best oral health!
About the Practice
Sage Dental Care keeps the smile of Reno whole, healthy, and beautiful through the expertise of its two dentists. They provide a full comprehensive range of services, all while offering dental sedation options. With a focus on personalized attention and giving quality dental care using advanced technology, they can help you with any of your oral health needs and goals. To schedule an appointment, contact them through their website or call (775) 677-0790.