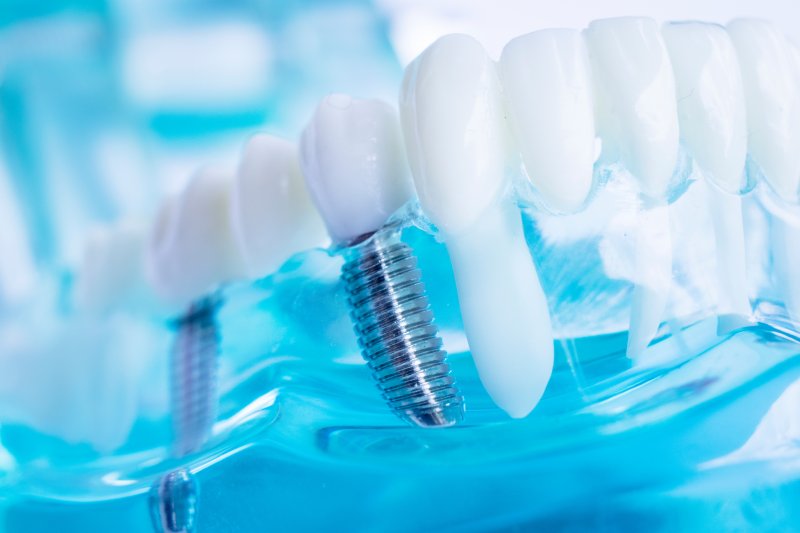 Do you have one or more missing teeth? Are you looking for an effective and long-lasting tooth replacement option? If so, then you may be considering getting dental implants. With these titanium posts, you'll be able to restore your pearly whites and preserve your jawbone and youthful facial shape. However, you might be wondering: how long do dental implants last? Keep reading to learn about the usual lifespan of these restorations and ways you can make the most of them!
How Long Do Dental Implants Typically Last?
Unlike other traditional tooth replacement options, like dentures or bridges, you can expect dental implants to last several decades to a lifetime. Their longevity will depend on a wide variety of factors, including the location in your mouth, how frequently you receive checkups, and how well you take care of them. If your metal posts are designed to replace your rear molars, then you might not expect them to last as long as those placed in the front of your mouth. This is due to the strain they'll receive from excessive chewing forces. The restoration fitted atop the implant, like a crown, will tend to last as long as 10 to 15 years before they require a replacement.
How to Properly Maintain Your Dental Implants
To make the most of your dental implants, you'll have to implement proper preventive measures that'll make them last. Several steps you can take to help prolong their lifespan include:
Maintaining proper oral hygiene: Your titanium posts and restorations won't be vulnerable to cavities, but the tissue around your new teeth can still be subject to serious issues, like gum disease. These complications can be averted by brushing, flossing, and rinsing with mouthwash regularly.
Avoiding tobacco products: Smoking can negatively affect your gum's blood supply, which can increase your risk of dental implant failure.
Practicing caution: Once your implants have completely healed, you'll be able to eat your favorite meals without food restrictions. However, you'll still want to avoid foods that are too hard or sticky and can damage your restorations. This means you should avoid poor habits like biting your fingernails, chewing on ice, or using your teeth as tools.
Visiting your dentist often: By scheduling checkups and cleanings every six months, your dentist can help stop or prevent developing issues in your mouth. They'll also ensure your implants are in pristine condition and will provide a personalized preventive treatment plan so you can keep them as long as possible.
With their many benefits, dental implants are a worthwhile investment for renewing your smile. Keep these few tips in mind, and you'll be sure to enjoy your new and improved pearly whites for many years to come!
About the Author
Dr. Annie Kim received her dental degree from Boston University and has delivered outstanding care for over a decade. She also regularly seeks continuing education to refine her skills and is a member of several groups, like the American Dental Association. He offers a wide range of high-quality services, including dental implants. If you'd like to schedule an appointment, visit her website or call 775-677-0790.