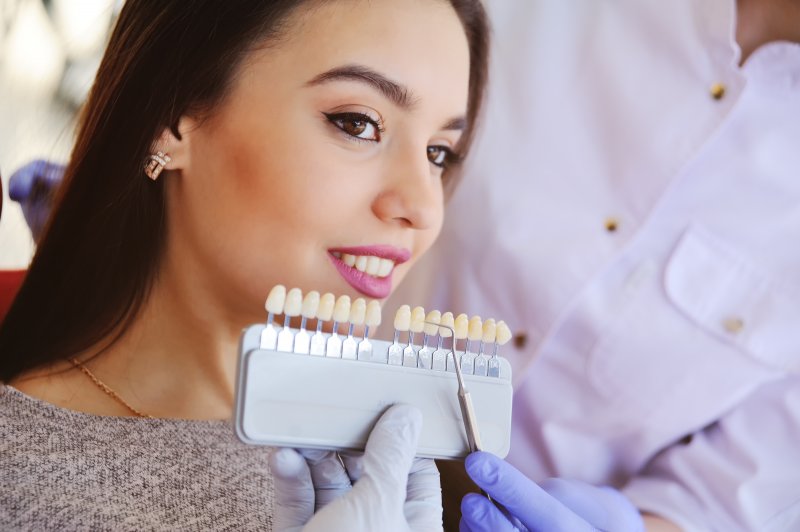 Do you wish you could conceal one or more dental flaws to create your dream smile? While there are various cosmetic dental treatments out there to enhance your pearly whites, veneers can provide the most comprehensive results. These wafer-thin porcelain shells not only mask most dental imperfections but can also offer a virtually permanent whitening solution that can last well over a decade! Keep reading to learn what to expect from the veneer process.
#1: The Initial Consultation
You'll first schedule an initial consultation with your dentist to discuss your smile goals and treatment plan. During this appointment, they'll assess your oral health and evaluate your options that are most cost-effective for your specific needs. If they detect any underlying or developing issues, such as gum disease or cavities, then you might require preliminary treatments to address them before you can be eligible for veneers.
#2: The Preparation Procedure
Once your dentist gives the green light for your procedure, they'll begin the process by preparing your affected teeth. This will involve numbing your mouth and shaving down a tiny portion of your enamel, allowing the porcelain shell to lay flush and blend in seamlessly with the rest of your smile. After preparing the enamel, your dental team will take impressions of the area and send them to a dental lab for fabrication.
#3: Living With Temporary Veneers
Since your final veneers will be completed after a couple of weeks, you'll need to cover your prepared teeth with a temporary set. These provisional layers will protect the exposed areas from damage or infection. They'll also serve as a "test drive" for your permanent set, as your dentist can adjust their design throughout this waiting period to ensure the results meet your smile goals. They won't be as durable as your final veneers, so you'll need to be careful with them by avoiding hard or crunchy foods.
#4: Achieving Your Brand-New Smile
Once your permanent veneers arrive from the dental lab, you'll be called back into your dentist's office to get them placed. The temporary ones will be replaced with your beautiful, custom-made porcelain shells that'll be bonded to your teeth using special cement. Your dentist will ensure they look and function properly and that you're completely satisfied with the results before you leave your appointment. You'll also be given personalized dental care instructions so that you can make the most of your dream smile.
Now that you know what to expect from the veneer process, you can feel more confident in deciding if the treatment is right for you. Feel free to consult your dentist if you're interested, and they'll be more than happy to discuss your options for improving your pearly whites!
About the Author
Dr. Josh Branco is a member of several organizations such as the Academy of General Dentistry, the Northern Nevada Dental Society, and the Nevada Dental Association. He graduated from Boston University and regularly seeks continuing education to expand his techniques so that his patients receive the best treatment they deserve. He offers a vast collection of advanced and all-inclusive services, including veneers. If you'd like to schedule an initial consultation, visit his website or call him at 775-677-0790.