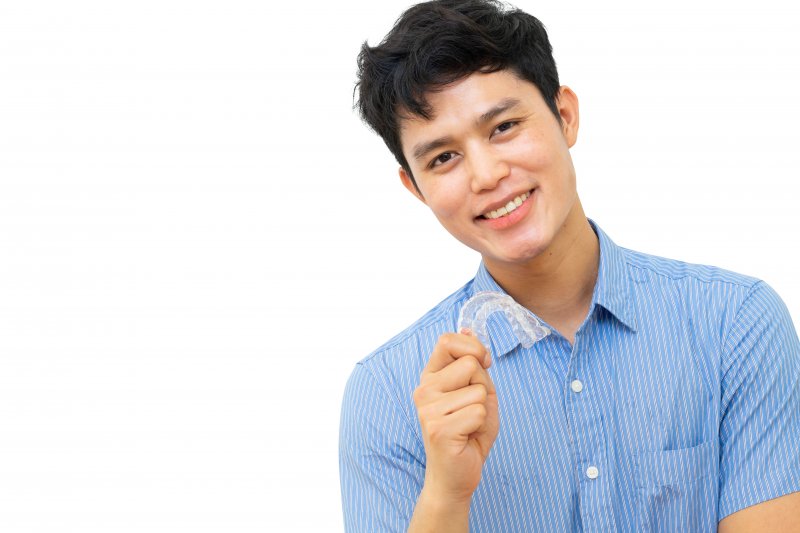 If you're undergoing Invisalign treatment, then you're likely aware of the importance of meeting your 20-22 hour wear time. The longer you keep your clear aligners on, the closer you'll be to achieving a perfectly straight smile. However, you'll need to remove your trays when cleaning them and before eating any meals. This may make you wonder about the best ways to maintain your Invisalign wear time. Keep reading to learn three important tips to help make this routine simpler during your treatment!
#1: Snack Less Frequently
While you won't have to worry about any food restrictions, you'll be required to remove your clear aligners before you can enjoy your favorite meals. You'll also need to clean both your teeth and Invisalign trays thoroughly before putting them back on to avoid bacteria and plaque buildup. This can often be time-consuming, especially if you tend to snack often. To avoid the hassle and maintain steady progress, you may consider watching how frequently you eat between meals. Try sticking to lean proteins and fiber-rich foods like nuts, veggies, and fruits to keep you full throughout the day.
#2: Soak Your Aligners During Meals
Although you'll brush your clear aligners regularly after meals, you'll also need to soak them in cleaning crystals or similar substances to help remove plaque and debris particles. If so, how exactly will you be able to do this while also maintaining your 20-22 hour wear time? The simplest solution is to soak your Invisalign trays during mealtime. Not only will you get the nourishment you need, but you'll also keep your clear aligners safe and bacteria-free!
#3: Avoid Scrolling Through Your Phone
Do you like to sift through your social media or watch videos on your phone enjoying your food? While this can be entertaining, the problem is that this can take too much time away from your Invisalign trays. You can end up spending an hour or two instead of merely 15-30 minutes without wearing your clear aligners! The more often this happens, the longer your orthodontic treatment might become. Make sure to put your phone away, and even avoid watching TV, so that you can focus on finishing your meal and putting on your clear aligners again.
By practicing these few tips, you can successfully meet your 20-22 hour Invisalign wear time without much trouble. Once you finish the process, you'll be able to show off the perfectly straightened teeth you've worked so hard for!
About the Author
Dr. Josh Branco is a member of several prestigious groups such as the Nevada Dental Association, the Academy of General Dentistry, and the Northern Nevada Dental Society. He graduated from Boston University and continues to seek advanced training to refine his techniques. He offers a wide selection of high-quality services, including Invisalign. If you'd like to know more about meeting your Invisalign wear time, feel free to visit our website or call our North Reno location at 775-677-0790 or our South Reno location at 775-409-4282.