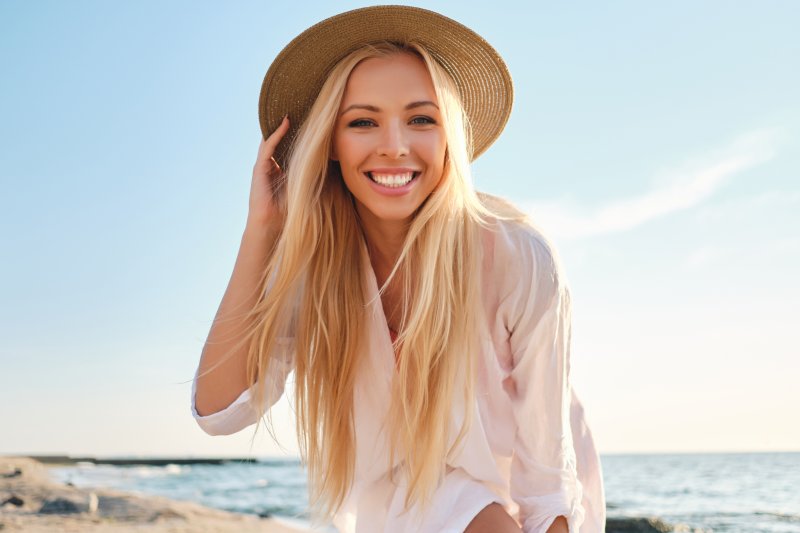 With the warmer months comes a sea of social gatherings. Whether it's a wedding or graduation, there will no doubt be someone capturing all the special moments and memories. If you have flaws and imperfections in your teeth, you may be reluctant to flash your smile when the cameras come out. Luckily, porcelain veneers can help you achieve a grin you'll proudly show off in every photo! Read on to find out how this cosmetic dental treatment can help you beam with confidence this season.
What Are Porcelain Veneers?
Porcelain veneers are thin, high-quality porcelain shells that are placed over the visible portion of each tooth you'd like repaired. The porcelain sheaths can be customized to mimic your natural enamel and sculpted to fit your grin perfectly. Once in place, they're virtually indistinguishable from your surrounding teeth. In just a few appointments, you can enjoy a picture-perfect, natural-looking smile!
Am I A Good Candidate for Porcelain Veneers?
Short answer: it's hard to say. While porcelain veneers are an ideal option for patients with several dental flaws and imperfections, not everyone is a good candidate. Patients must be in good oral health and have strong, healthy teeth with sufficient enamel. However, the best way to determine whether it's the right solution for you is to schedule a consultation with your cosmetic dentist.
How Can Porcelain Veneers Improve My Smile?
One of the benefits of porcelain veneers is that they can address a wide array of dental issues, including:
Minor chips and cracks. Veneers can enhance your smile by concealing minor signs of damage, such as chipped or cracked teeth.
Severe staining and discoloration. For some patients, even professional whitening treatment is not sufficient at eliminating stubborn stains. In cases of severe discoloration, veneers can mask it, creating the appearance of bright, clean, and pristine teeth.
Spacing issues and gaps in between your teeth. If you don't want to undergo months of orthodontic treatment, veneers may be the solution for you. You can enjoy a gap-free smile in just a few appointments!
Crooked teeth. Since porcelain veneers are cemented onto the front surfaces of your teeth, they can give you the appearance of a straighter grin without shifting the position of your teeth.
Asymmetrical smile. Not everyone is born with a perfect set of teeth. Some people have teeth that may just naturally vary in size. Luckily, porcelain veneers can make them look uniform in no time.
Don't spend your summer vacation shying away from the camera. Consult with your dentist about getting porcelain veneers. Soon, your smile will be shining through all the selfies and family photos!
About the Practice
At Sage Dental Care, our focus is to provide high-quality dental care in a warm, comfortable, and inviting environment. From cleanings to crowns to porcelain veneers, we've got you covered. If you're ready to restore your smile and confidence, we can accomplish both with porcelain veneers. To determine whether you're an ideal candidate for this treatment, schedule a consultation with one of our dentists via our website or call (775) 677-0790.