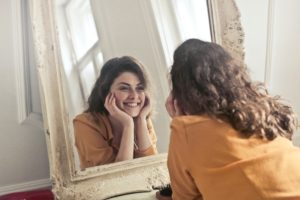 Have you been told you have a "gummy smile?" You don't need to feel insecure about your small teeth. Your cosmetic dentist can transform your smile and your self-esteem using the latest advancements in dentistry. There are several options to make your teeth look proportionate. Not sure which procedure is right for you? Here are 4 common solutions to make shorter teeth appear larger.
What Causes Short Teeth?
Short teeth can be caused by several issues, such as excessive wear-and-tear from years of biting and chewing. Older adults are most at risk of their teeth gradually becoming shorter, but it can happen to anyone. Besides aging, your teeth can also look stubby if you develop excessive gum tissue, better known as a "gummy smile." Several dental conditions might cause your teeth to look shorter than average, such as genetics. Certain lifestyle factors can also affect the length of your teeth, like past drug use or frequently consuming acidic foods.
What are My Options to Improve Short Teeth?
Short teeth are more than just an aesthetic issue. They can also lead to disorders of the temporomandibular joint, tooth sensitivity, or facial pain. Your cosmetic dentist in Reno will evaluate your smile and discuss your goals to determine the best way to fix your teeth, which can include:
1. Porcelain Veneers
A thin shell is bonded to the front surface of a tooth to improve its overall color, size, shape, and proportion. Besides making your teeth appear larger, veneers can also cover a variety of other imperfections, like discoloration and chips. The minimally invasive procedure is the ideal solution to achieve drastic results in as few as 2 appointments.
2. Metal-Free Restorations
Small teeth that are weakened from certain dental issues can be repaired with all-ceramic crowns. A crown covers the entire surface of a tooth above the gum line. It can protect your tooth from additional damage while also enhancing its size.
3. Direct Bonding
A composite resin material can be applied to your teeth to make them look longer. The resin is customized to match your enamel to blend in with your teeth. You can resolve your "gummy smile" using an affordable and minimally invasive treatment.
4. Gum Recontouring
A soft tissue laser can reveal more of your teeth' surfaces. Excess tissue is removed while your gum line is improved using the precision of a dental laser. You won't need to worry about any scalpels or sutures while on your journey to a beautiful smile.
Enhance Your Smile Today
Don't hide behind small teeth. Your cosmetic dentist can enhance the length of your teeth to give you the confident smile you deserve.
About Dr. Josh Branco
Dr. Branco believes every patient should have a healthy, attractive smile, which is why he provides world-class services. Besides earning his dental degree, he has completed advanced training in many specialties, including oral surgery, IV sedation, cosmetic dentistry, and dental implants. He uses Digital Smile Design to allow his patients to preview their new smiles before committing to any treatment. If you're ready to resolve your "gummy smile," contact our office today for a consultation.