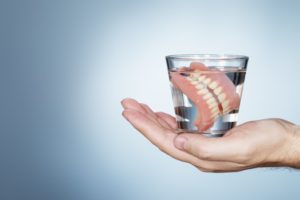 People have been replacing their missing teeth with dentures for centuries, but just because they're a traditional solution doesn't mean they can't look real. Today's dentures appear more lifelike than ever before. However, even with all of the advancements in modern dental technology, no denture is designed to last forever. Here are five signs that it might be time to replace your dentures in Reno.
Your Dentures Are Loose
If your dentures fit the way they're supposed to, they shouldn't be slipping around or falling out of your mouth. Dentures tend to become loose due to natural jawbone changes that occur after tooth loss. As a result, even the most well-made denture will need to be replaced every few years. You can temporarily stabilize your denture with adhesive, but you'll still need to visit your dentist for a longer-lasting solution.
Talking Is Hard
Poorly fitting dentures can impede your speech. You may find yourself slurring your words, mumbling, lisping, or making a clicking or whistling sound when trying to talk. Dentures that fit correctly shouldn't cause any speech problems.
Your Gums Feel Uncomfortable
When you first receive your dentures, it may take a few weeks for your mouth to fully adjust. However, there should never be any persistent discomfort or outright pain. Sores, lesions, or irritation on your gums could indicate that your dentures do not fit properly. Schedule an appointment with your dentist in Reno as soon as you can to have them adjusted or replaced.
Your Dentures Are Damaged
Dentures are durable, but they're not indestructible. If you notice any chipped, cracked, loose, or missing teeth in your prosthesis, promptly call your dentist. You may have accidentally damaged your dentures. They could also just be getting old. Whatever the case may be, your dentures need attention right away. In the meantime, do NOT attempt to fix your them yourself, as that may actually worsen the damage.
Your Dentures Have Stains
With the right care, you can prevent your dentures from becoming discolored, but it may still occur over the years. Although it may seem like a minor cosmetic issue, staining is a perfectly good reason to want a new denture. Even if they're not "real," you deserve to have a beautiful set of pearly whites to show the world.
If you're experiencing any of the denture problems described above, contact your dentist right away. They can get your smile back on the right track in no time!
About the Author
Dr. Josh Branco is a dentist in Reno with extensive training in restorative dental procedures. He can even secure dentures onto dental implants by placing them himself, thanks to his Fellowship with the International Congress of Oral Implantologists. If you're interested in adjusting your denture or possibly upgrading to a more reliable implant denture, you can contact Sage Dental Care by calling (775) 677-0790 or by visiting Dr. Branco's website.