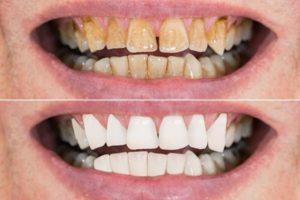 One of the first things people notice about someone is their smile, but 80 percent of American adults dislike their teeth. Cosmetic dental treatments give individuals the ability to transform their dental appearance and help them regain confidence in their smiles. This is why they are one of the most popular dental services today. Keep reading to learn which treatments are considered to be cosmetic dentistry and how they can help give you the smile you've always wanted.
Teeth Whitening
If you're looking to brighten your smile, teeth whitening may be the perfect way for you to do it! Your cosmetic dentist in Reno has two options for you. The first is a take-home teeth whitening kit. These kits are far more effective than any over-the-counter whitening kits you may find in your local stores. First, your dentist will take impressions of your teeth and customize treatment trays to give you the most coverage. Next, you will receive a powerful whitening gel that you put into the trays and wear for about 30 minutes. After a few days, you should see noticeably whiter teeth. The second teeth whitening option is having an in-office treatment. This option uses the most powerful bleaching agents possible, providing a drastic difference in color and the appearance of stains on your teeth in just one visit that takes about one hour or less!
Porcelain Veneers
While no dental treatment is completely permanent, porcelain veneers provide a very long-lasting resolution for a variety of dental flaws. Veneers are thin medical-grade porcelain shells that are bonded to the visible portion of each tooth to create a perfectly white, symmetric smile. They mimic the appearance of tooth enamel but provide stronger, more durable protection from extreme temperatures. Porcelain veneers are able to correct the following dental issues:
Gaps in teeth
Crowded or misaligned teeth
Misshapen or uneven teeth
Chipped or fractured teeth
Worn-down enamel
Severe staining or discoloration
Dental sensitivity
Direct Bonding
If you prefer a straightening treatment that is less invasive than veneers, direct bonding may be an excellent option. This cosmetic procedure involves a composite resin that is mixed to match your natural tooth color that is placed onto your teeth to correct the appearance of chips or fractures, as well as stains or discoloration. It can also fill in minor gaps to improve the appearance of your smile. However, it is not as durable as porcelain veneers or dental crowns. It is also a bit more fragile, as it only covers a portion of the tooth rather than the entire tooth.
These cosmetic dental treatments are all designed to help patients find renewed confidence and pride in their dental appearance. You deserve a beautiful smile; if you're not sure which option is best for your needs, your dentist in Reno can help you make the right decision.
About the Practice
At Sage Dental Care, Drs. Josh Branco and Ah Young Kim are both very passionate about providing the citizens of North and South Reno with the most modern techniques in dental care. They offer services that include general dental exams and cleanings, cosmetic dental treatments and more. If you're ready to transform your smile with cosmetic dentistry, contact the office at (775) 677-0790 or visit the website to schedule your appointment today.