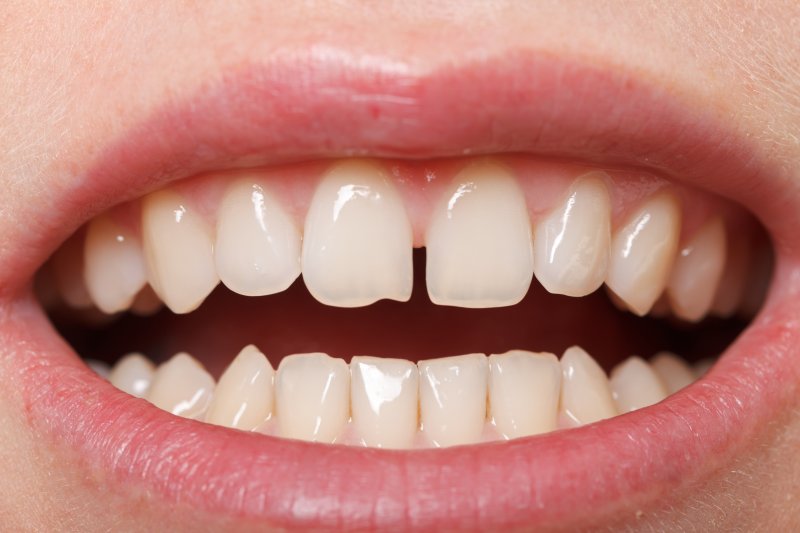 Do you have a gap between your front teeth that is wider than 0.5 millimeters? This is what the dental community calls a diastema. But there is no need to worry! This can happen to both children and adult and it usually doesn't require any treatment because it isn't a treat to your oral health. However, many people prefer to have this fixed for cosmetic reasons. Read on to learn why diastemas happen and some different ways they can be fixed, such as with Invisalign in Reno.
What Causes Diastemas?
There are a variety of reasons why diastemas can occur. Here are some of the most common:
Smaller Teeth: In some families, having smaller teeth in relation to the jawbone is genetic. In this situation, gaps can develop between the teeth.
Periodontal Disease: If you have gum disease at a more advanced stage, your teeth can migrate, and gaps can open between them. Without treatment, your teeth could eventually fall out.
Missing Teeth: When a tooth is missing, the other teeth will move around, and you could develop gaps. This happens more often when the teeth on either side of the front teeth are missing.
Oversized Labial Frenum: This is that tissue that extends from the inside of the upper lip to the gum that is above the upper front teeth. If this is larger than average, a gap can form.
Bad Habits: If you suck your thumb, lip, or thrust your tongue, you could develop a diastema.
What Can Be Done About Diastemas?
If you have a gap between your front teeth, cosmetic dentistry in Reno can help you out. There are a number of different cosmetic treatments out there that can resolve this cosmetic issue:
Invisalign: Dentists can use Invisalign clear aligners to shift your teeth into ideal locations.
Porcelain Veneers: If undersized teeth are the reason why you have a diastema, veneers can correct this. These are wafer-thin shells of porcelain that are placed over the surface of the teeth to cover up imperfections, like gaps.
Direct Bonding: This involves using a composite resin on the surface of the teeth to fill in the gaps. This is then hardened with a special light.
Periodontal Therapy: If you have gum disease that is the cause of your diastema, having periodontal therapy is necessary in order to stop the infection and prevent further issues. After this, you and your dentist can work on closing the gap with another treatment.
Surgery: If you have a diastema as a result of an oversized labial frenum, surgery could be recommended to fix it.
If you're self-conscious about a gap between your front teeth, you don't have to live with it. Talk to your dentist about possible solutions so you can work towards the smile of your dreams.
About the Author
At Sage Dental Care, you have not just one, but two dentists serving patients in Reno, NV. Dr. Josh Branco and Dr. Annie Kim both earned their dental degrees from Boston University. They are members of numerous professional organizations, including the American Dental Association and the Academy of General Dentistry. If you are wanting to eliminate a gap between your teeth, they would be happy to help. For more information on your cosmetic dentistry options or to schedule a consultation, visit their website or call (775) 204-1975.