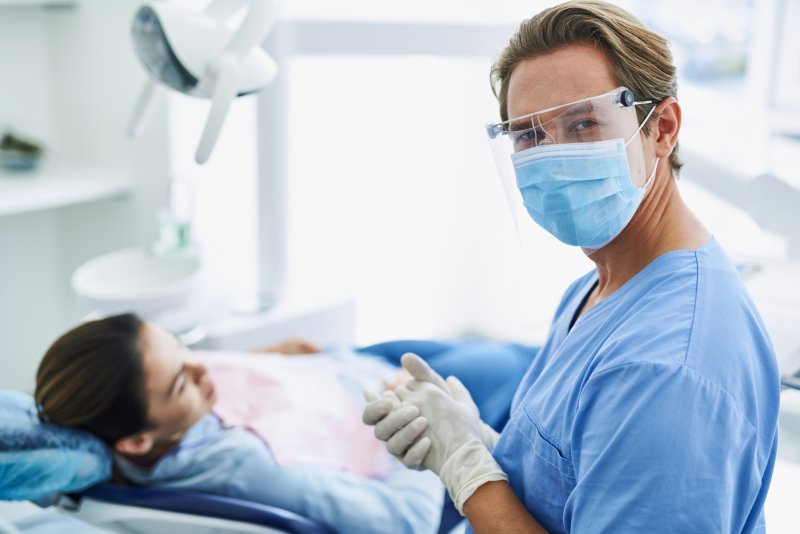 Your dentist in Reno is in the business of serving others. Not only do they commit to enhancing, repairing, and restoring your smile, but they will do everything they can to ensure your health and wellbeing are in optimal condition. Because of this level of dedication, they also believe in taking every possible precaution to keep you safe during your appointment. With COVID-19 remaining a threat, additional measures are being taken to better protect your dentist, team members, and you. Spend some time learning what steps they're taking to maintain a positive and germ-free environment.
The Changes Brought On by COVID-19
Dental offices are some of the cleanest places you can visit. With certain expectations and guidelines surrounding sanitation, patients can feel at ease knowing the instruments and equipment are clean and ready for use.
In the past, dentists entered the room wearing either a lab coat or traditional scrubs, a face mask, gloves, and maybe some protective eyewear. However, with the outbreak of COVID-19, additional steps are now in place to minimize contamination, increase sanitation, and better protect both patients and staff.
So, what is your dentist doing to prepare for your next visit?
Identifying a new team member to serve as a "Safety Champion" each day. This person oversees the safety protocols for the day, ensuring all social distancing guidelines, cleanliness, and the arrival of patients is seamless and meeting set standards.
Performing temperature checks and screenings of all staff members to ensure everyone is healthy and ready for work.
Ensuring all team members are trained on how to prevent the spread of COVID-19 and are aware of the new protocols recommended by health and safety officials.
Taking steps to maintain social distancing guidelines by having patients wait in their vehicles until their appointment time as well as minimizing contact between individuals as much as possible.
Requesting all patients rinse with a solution before their appointment to reduce bacteria in the mouth.
How These Protocols Help in the Fight Against COVID-19
While many are self-explanatory, these protocols and the additional preparations being made by your dentist are proof that your health and safety are of the utmost importance. Because dental offices indeed are some of the cleanest places you can visit, it is even more important that your dental team go the extra mile to maintain this high standard of cleanliness and minimize as many harmful pathogens as possible.
Whether caused by chemicals used in cleaning products, bad bacteria, or viruses, these particles can remain airborne for hours or even days. Many of the steps you will find on your dentist's website help to decrease these potentially dangerous microbes, resulting in a cleaner, safer, and healthier environment for everyone.
About the Author
Dr. Josh Branco is a trusted dentist in Reno who has been offering his services since 2009. He and the team at Sage Dental Care are like many other dental professionals across the country who are implementing additional health and safety standards amid the COVID-19 crisis. Understanding patients may feel a bit apprehensive about their visit, he is taking every precaution to prepare for each visit by increasing sanitation efforts, wearing appropriate personal protective equipment (PPE), and ensuring his team is healthy for work. To better understand the measures being taken to keep everyone safe, visit our website or call (775) 409-4282.