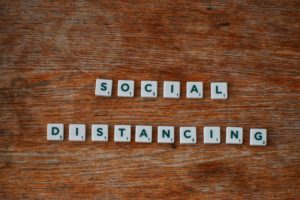 Social distancing is key to fighting the COVID-19 pandemic. As the spread of the virus declines, your dentist in Reno can reopen their doors to see patients again, but how will you keep your distance? Despite the size of the facility, it is possible to maintain social distancing when visiting your dentist. In fact, your dentist has implemented several changes to limit contact between patients. Here are 5 changes you will see to help you keep your distance.
1. Virtual Waiting Rooms
Dental offices are already some of the cleanest places; however, the waiting rooms can be germy. Not only because of your close proximity to other people, but also because of frequently touched surfaces. To reduce the risk of exposure to harmful pathogens, your dentist will use virtual waiting rooms.
Upon arriving at the dental office, you'll call from the parking lot to let your dentist know you've arrived. After answering a few brief questions, you'll be escorted to the clinical area of the practice.
2. 6' Spacing in Office
The Centers for Disease Control and Prevention recommends at least a 6' foot spacing from other people. Your dentist will follow this guideline by moving their chairs and exam tables further apart. Your dentist may also create one-way traffic in the treatment area to ensure social distancing. With things spread out, it reduces potential cross-contamination.
3. Spaced-Out Scheduling
It might take you longer to get an appointment with your dentist because they aren't seeing as many patients per day. This allows there to be more time between visits, so you're less likely to run into another patient. In addition, it also gives the dental team more time to clean before the next patient arrives. Although it might take a bit longer to see your dentist, it's essential for stopping the spread of COVID-19.
4. No Handshaking or Hugs
Your dentist and dental team will be happy to see you; however, they will avoid shaking your hand or giving patients a hug. They will keep their distance for your safety and their own.
5. Clear Barriers
Clear barriers have been strategically placed throughout dental offices to reduce the spread of airborne pathogens. The barriers will be cleaned regularly to reduce harmful germs in the office.
Maintain a Healthy Smile
If you're asking, "where is a dentist near me?" don't visit just any location. Choose one that's implemented the latest safety standards to reduce the risk of coronavirus. With a proactive approach, you can get the care you need while staying healthy.
About Dr. Josh Branco
Dr. Josh Branco obtained his dental degree from Boston University and completed his post-doctoral residency at the UNR School of Medicine. He regularly continues his education to remain up to date with the latest standards and techniques. Including those related to COVID-19. If you have concerns about our safety standards, contact our office today to speak with a member of our team. You can feel at ease knowing your safety is a top priority.