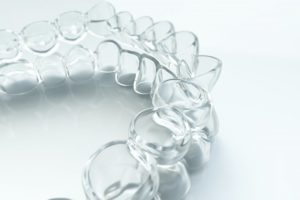 More than 8 million people have chosen to transform their smile with a new, modern orthodontic treatment called Invisalign. However, these clear alignment trays can do more than just straighten your teeth. With the help of your skilled Reno dentist, Invisalign can solve a number of bite problems as well! If you have any of the following issues with your jaw alignment, find out how these clear braces can help you get a straighter, healthier, and more functional smile!
Overbite
An overbite is a common bite issue where the top teeth cover up too much of the lower teeth when the jaws are put together. While it's normal to have a slight overbite, too much of an overlap can make it difficult to chew and put excess strain on the jaw and tooth enamel.
Underbite
The opposite of an overbite is an underbite, where the bottom teeth are in front of the upper teeth when the mouth is closed. An underbite can quickly wear down your teeth and may even cause difficulties in speaking clearly.
Crossbite
If some of your upper teeth rest behind your lower teeth when your jaw is closed, you have a condition called crossbite. Eventually, the misalignment of your jaws can cause your teeth to chip and your gums to permanently recede. In severe cases, crossbite can only be treated with surgery.
Open Bite
When the upper and lower teeth don't touch at all when the mouth is closed it's known as an open bite. This typically genetic condition can make it difficult to chew easily or speak clearly, and often results in jaw pain.
How Can Invisalign Help Fix These Bite Problems?
Invisalign clear aligners are primarily used to straighten out crooked, crowded, and gapped teeth. Sometimes, this is enough to move your teeth into the proper position in front or behind each other. Open bites can occasionally be resolved simply by pushing the teeth into a straighter position so that they align when the jaws are closed. For more support, your dentist may incorporate small elastic bands to gently pull your jaws into alignment during your treatment. This solution to bite problems has been used for decades with traditional braces, but now you can correct bite issues while enjoying the unique benefits of Invisalign!
If you're looking for a comfortable and discrete way to fix your bite problems, Invisalign in Reno is here to help. Talk to your dentist today to find out if this modern orthodontic treatment can help you get the improved smile you deserve!
About the Practice
You're not stuck with crooked teeth or a misaligned bite if you missed out on braces as a child. Here at Sage Dental Care in Reno, NV, we're proud to offer adults and teens alike superior orthodontic treatment with Invisalign. Our talented team of dentists is passionate about improving lives through healthier smiles. They also stay up to date on the latest techniques and technologies in the field of dentistry, so if you have any questions about how to best fix your bite issues, feel free to contact them via their website or at (775) 677-0790.