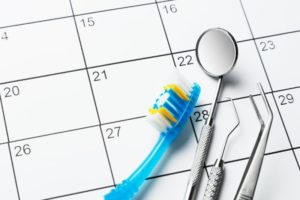 Many patients don't realize that on January 1st, their dental insurance plan renews, and they lose any benefits that they haven't used. Dental insurance is an investment in the maintenance of your health, but it can be overwhelming to navigate your policy and learn the ins-and-outs of your coverage, which is why many patients only use their benefits when they absolutely have to. Although insurance can seem like a stressful and complicated topic to navigate, with a helpful dentist in Reno by your side, you'll be able to maintain great oral health and get the most out of your plan. Read on to learn three ways you can save money by maximizing your benefits.  
Preventive Care Means Less Costly Treatments
The whole point of dental insurance plans is to encourage patients to be proactive about maintaining their oral health, which is why they include two free annual checkups and cleanings. Plus, taking care of problems before they cause you pain and discomfort is more convenient for you. In a PBS interview with Dr. James Stephens, the President of the California Dental Association, he stated that every dollar spent on preventive dental treatments saves about 50 dollars on more invasive services.
Most dental insurance plans use a 100-80-50 structure. This means that they cover 100 percent of preventive dental services, including your two free annual checkups and cleanings, 80 percent of basic treatments such as cavity fillings, and 50 percent of major procedures such as root canals. The longer you wait to get an issue treated, the more it's going to cost you in the long run.
Nothing Goes to Waste When You Meet Your Maximum
As soon as January 1st rolls around, you'll lose all the benefits you haven't used, which is why it's best to get any treatments and checkups you need before the start of the new year. Your insurance company has a cap on the amount they'll pay for your dental treatments every year, it's called a maximum. The typical maximum is 1,250 dollars. According to a study done by the American Dental Association, the average person with private dental insurance only has about 323 dollars of services done every year. That means that millions of Americans are losing 927 dollars annually because they aren't utilizing all of their benefits. To get the most out of your plan, it's best to meet or exceed your maximum.
Schedule Your Treatments While Fees are Lower
Just like with an apartment lease, every year your dental insurance renews, your fees and rates can change. That means that your deductible and copayment will most likely be cheaper this year than next. Instead of taking a gamble on your insurance fees lowering, save money by getting the treatments you need now.
Finding a dentist near you that helps you maximize your insurance benefits seems like an impossible task, but they exist. With the right team of dental professionals by your side, you can learn more about your plan and save yourself from needing to pay steep out-of-pocket costs while keeping your teeth and gums healthy.
About the Author
Dr. Annie is passionate about providing her patients with judgement-free dental care in a comfortable environment. She believes that every patient has the right to high-quality dental treatments they need, which is why Sage Dental Care accepts most traditional insurance plans and offers flexible payment options through CareCredit. For patients who aren't sure what their insurance covers, her team of dental professionals is happy to answer any questions. To schedule a routine checkup and cleaning before your dental insurance benefits renew on January 1st, visit Sage Dental Care's website or call 775-677-0790.