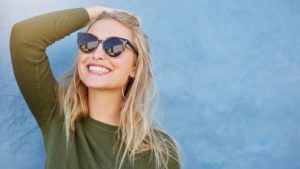 You've always wanted straighter teeth, but uncomfortable, awkward metal braces have never appealed to you. Thankfully, modern dentistry has come a long way, and there are now other options for attaining straighter teeth. Two of them are porcelain veneers and Invisalign in Reno. What exactly are they? How can you pick between them? Read more to learn more about your choices, and how to make the best decision for your smile.
What Is Invisalign?
Invisalign in Reno involves a set of clear plastic aligner trays that you wear over your teeth for about 22 hours a day. They exert a gentle pressure on your teeth to gradually shift your entire smile into a straighter position. You'll wear a new pair of aligners every couple of weeks or so, each one designed to shift a small portion of your smile at a time. Most patients see beautifully straight results after about a year of treatment.
Are You a Good Candidate for Invisalign?
Invisalign is incredibly versatile. It can be used to correct multiple issues you may have with your smile, such as:
Overbite
Underbite
Crossbite
Gaps between teeth
Crowded teeth
If your problem is with your bite as a whole and not a few select teeth, Invisalign may be better for you. Also, Invisalign candidates must be determined and responsible enough to wear their aligners for pretty much the whole day, only removing them to eat, brush, and floss. If you are unable or unwilling to wear your aligners for at least 22 hours a day, Invisalign won't work as intended.
What Are Porcelain Veneers?
Veneers are ultra-thin shells of durable dental porcelain that are bonded to the front surfaces of your teeth. These versatile restorations can be used to fix several flaws at once, including:
Oddly shaped teeth
Rotated or mildly crooked teeth
Gapped teeth
Stained or discolored teeth
To make sure the veneers lay flush against your teeth, your dentist in Reno will need to remove a tiny sliver of enamel from the affected teeth. Afterwards, you will have a beautiful, perfectly straight smile that still looks natural.
Are Porcelain Veneers Right for You?
Because veneers can be used to correct a wide variety of issues in your smile, they could most likely benefit yours. However, your teeth and gums must be in good health before the veneers can be placed. This problem is generally easy to remedy by scheduling a consultation with your dentist to determine how to improve your oral health.
Invisalign and porcelain veneers are both great options when it comes to cosmetic dentistry in Reno. Talk to your dentist about which one would be better for your smile.
About the Author
Dr. Josh Branco is a cosmetic dentist in Reno and a graduate of Boston University. He thoroughly enjoys combining his loves of science and art to create beautiful smiles for his patients. To schedule a consultation for porcelain veneers or Invisalign, contact Dr. Branco's office by clicking here or calling (775) 409-4282.