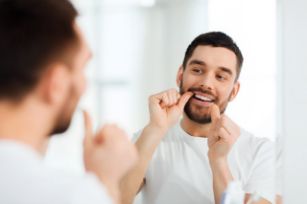 The better your oral hygiene habits are, the less likely you'll be to develop cavities, gum disease, and bad breath. But one of the most common questions patients ask their dentist in Reno is, "Should I brush or floss first?" While most dentists are thrilled if people are consistently flossing at all, there is some evidence to suggest that one approach is more effective than another. Keep reading below to learn the answer to this common question and get some overall tips to improve your oral hygiene!
Which Is Better – Flossing First or Brushing First?
Brushing and flossing are both essential for good oral health. Your toothbrush is only able to reach about 2/3 of the total surface area of your teeth, while flossing can access the other 1/3. And while the debate has raged on for many years about which one you should do first, a recent study in the Journal of Periodontology found that flossing first removes significantly more plaque than brushing first.
Researchers found that it's better to floss first because it loosens the plaque, bacteria, and food debris from your teeth, making it easier to remove with your toothbrush.
Tips To Improve Your Overall Oral Hygiene
In addition to flossing before you brush, here are some good ways to make your oral hygiene routine even more effective:
If you struggle to floss every day, find ways to make it convenient. For example, while flossing right before bed is ideal, it's not helpful if you're so tired that you simply don't do it at all. Instead, you can always floss and brush earlier in the day, like right after dinner. Or, some people break it up by flossing their bottom teeth in the morning and their top teeth at night.
Also, it's not only how often you brush and floss that counts, but the wayyou brush and floss as well, so ask your dentist or hygienist at your next checkup to demonstrate the best technique.
Many patients find it helpful to use tools such as floss picks, a floss handle, or an electric toothbrush. There's something for everyone, so it's just a matter of finding what works best for you.
Use a fluoride mouthwash after you floss and brush. This is an easy, effective way to strengthen your enamel and prevent cavities.
Along with professional care, what you do every day at home to keep your teeth and gums clean is the foundation of your dental health. With these tips, you can look forward to less dental work, healthier gums, and fresher breath!
About the Author
Dr. Josh Branco is a family dentist in Reno and also a Nevada native. He always gives his patients brushing and flossing tips because he knows that good oral hygiene habits lead to less dental work overall. If you have any questions about your oral hygiene routine, he can be reached via his website.