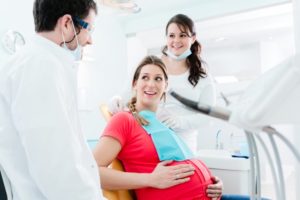 You are expecting a baby. Congratulations! It's an exciting time, and you're doing your best to take care of yourself for both you and your baby. While you set up the nursery and make sure you feed yourself well, don't forget an important but often neglected issue: your oral health. But it can be a little confusing. Should you still go to your dentist in Reno for checkups while you're pregnant? Is it safe to get diagnostic dental X-rays during pregnancy? Check out this helpful information about dental problems during pregnancy, preventive oral care, and X-rays.
What are some dental risks during pregnancy?
During pregnancy, women have a higher risk of getting oral conditions, such as gum disease, tooth decay, and pregnancy tumors, which are typically benign and go away after delivery. Your hormone levels change, potentially causing your gums to swell, bleed, and trap food particles more easily. This in turn can cause increased irritation in the gums. Especially if proper oral hygiene is not maintained, you could develop gum disease, which has been linked to preterm labor and delivery.
Tooth decay is also more likely during pregnancy for several reasons. First, you are more likely to consume more carbohydrates, which stimulates bacterial growth in your mouth. Second, morning sickness can leave more acidic fluids in your mouth. These situations can lead to more cavities during pregnancy.
Should I go to the dentist for a checkup and cleaning during my pregnancy?
Poor oral habits have been associated with preterm birth, intrauterine growth restriction, gestational diabetes, and preeclampsia. Visiting the dentist for your routine checkup and cleaning is one of those critical habits you need to maintain during pregnancy to ensure your oral health.
With so many risks to your dental health and to your baby, if you are pregnant, you should certainly still attend your checkup and cleaning to receive necessary treatment and prevent dental problems in the future. The X-rays themselves, however, are a different story.
What is the general rule of thumb for dental X-rays during pregnancy?
All unnecessary dental work, including diagnostic X-rays at annual checkups, is usually avoided during the first trimester of pregnancy or often postponed until after the baby is born. Although the risks to the baby are small and X-rays emit such low levels of radiation, it is better to avoid this exposure as much as possible.
Are there exceptions to the rule of thumb?
If you experience a dental emergency during pregnancy, such as a severe toothache, then your dentist will need to get X-rays of your teeth to diagnose and treat you properly. If you must get a dental X-ray while pregnant, the ideal time is during the second trimester after the baby has developed their organs and while you are still able to lie down on your back for extended periods of time. A lead apron also further minimizes exposure to the abdomen and should be used when any dental X-ray is taken, whether you're pregnant or not.
By still attending your dental appointment, you can help steer clear of oral problems or at least minimize their impact on your and the baby's health in the long term. Going in to your dental checkup, you'll be more prepared for what kind of care you should get and the kinds of things your dentist is looking for in the checkup. For more information about dental care during pregnancy, risks during pregnancy, or X-ray technology, contact your Reno dentist.
About the Author
Sage Dental Care is locally owned and operated and is dedicated to providing the highest quality of dental care with each patient's comfort in mind. Using advanced technology, such as digital X-rays, a Cone Beam CT scanner, digital impressions, and so much more, the two dentists and their staff offer the best service available. To schedule an appointment with them, call (775) 677-0790 or click here.