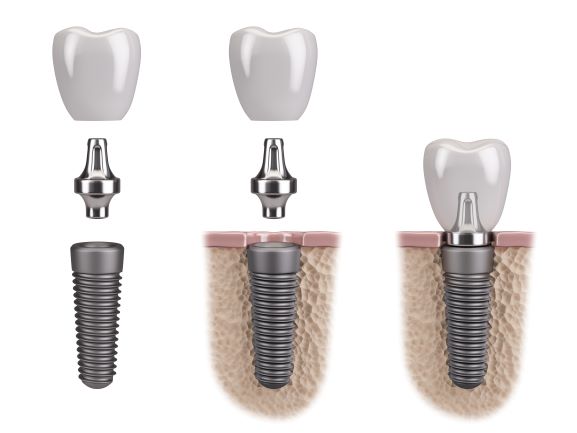 One question we frequently hear from patients is whether dental implants in Reno are visible to the naked eye. Here's the truth: unless the person has an x-ray machine, then he or she will never know the difference between an implant and a healthy natural tooth. Dental implants are a great way to enjoy both a restored smile and better health overall
What Makes Dental Implants Different
Part of what makes natural teeth so strong is the part that you can't see, the section that dentist call "the root." This is the portion that's beneath the gum line. It joins with the patient's jaw, giving it immense strength.
Unfortunately, as we all know, our natural teeth are tough but not indestructible. Cavity-causing bacteria, lifestyle factors, mouth trauma, or the simple effects of time and aging can all take their toll. When this happens, missing teeth become a regrettable part of life.
Correcting this problem has long been a major goal of dental science. Some of the traditional approaches include crowns, bridges, and dentures. These options have helped millions of people to regain much of the functionality they once had. However, they suffer from a common limitation: they stop at the gum line, leaving the base unrestored.
The dentist and medical researchers who developed modern implants took a lesson from Mother Nature's playbook and approached the tooth restoration process from the base up. That's why at the heart of every implant is a medical-grade titanium post that emulates the base of a natural tooth.
Like the teeth you are born with, it draws its strength from the bones in your jaw. This makes implants a true long-term restoration, not simply another surface-level treatment.
Designed to Match Your Smile
During your initial dental visit, your dentist will create a series of ultra-precise digital images of your teeth and gums. The lab that crafts your implants will use this information to match your restoration to your unique oral profile, down to its most subtle aspects.
Once in place, the restoration will be indistinguishable from healthy natural teeth. The only way to tell the difference will be with an x-ray machine, which can detect the metal portion of the implant beneath your gum line. Other than that, it will be as if your missing teeth regrew themselves.
Implants do require a minimum degree of healthy bone to support the restoration. In many cases, a dental surgeon can correct for jawbone deficiency by performing a graft. Your implant dentist in Reno can tell you more at the time of your appointment.
Dental implants require the same care you give to your natural teeth. This includes daily brushing and flossing, eating a sensible diet, and seeing your dentist for periodic cleanings and exams. It's important to avoid tobacco products, excessive alcohol consumption, and illicit drugs of all types.
Dental implants are a great way to enjoy not only a restored smile but a better life overall. Talk to your dentist about this and other restoration options during your next appointment. We wish you and yours all the best, both in 2019 and for all the years beyond.
About the Author
Dr. Ah Young Kim, known to her friends and patients as "Annie," studied dentistry at Boston University before going on to complete her post-doctoral internship at UNC Chapel Hill. She has been providing top-quality dental care to the Northern Nevada community since 2009. You can reach her office online or by calling (775) 677-0790.