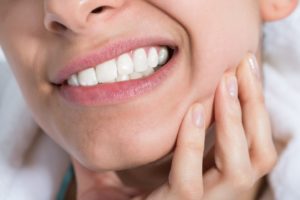 Nothing is worse than a toothache. Although many people tend to believe that an occasional pain in a tooth is normal, it is never a good sign. Any unexplained aching is a sign that you need to see your emergency dentist in North Valleys to find the underlying cause of your discomfort. While you wait for your appointment, it can be difficult to determine where the pain is originating. It may not feel like a single tooth is giving you a problem. Instead, it may feel like it is radiating from one side of your mouth. Your dentist will help to pinpoint the problem to give you the relief you need.

Which Tooth is Hurting Me?
Sometimes, it is easy to determine which tooth is giving your grief, such as if a tooth has cracked. Other times, it can be more difficult to tell where the pain is coming from. It turns out that a new study has found that your brain cannot differentiate the location of your discomfort. In fact, pain in an upper tooth can cause it to feel like it is affecting one in your lower jaw.
According to a study by Clemens Forster of the University of Erlanger-Nuremberg in Germany, the brain's activity was analyzed to determine how it interprets tooth pain. Using short electrical pulses that were attached to the lower left canine, a painful sensation was simulated. The results found that the participants rated their discomfort at a 60% with 100% being the worst possible pain.
The researchers moved the electrical pulses to different teeth to see if the results were similar. They found that the areas of the brain that responded to the pulses on the top and bottom teeth were carried along the trigeminal nerve. When the signals were sent separately, participants were able to localize their discomfort; however, when they were activated at the same time, they could not determine where their pain originated.
This can provide key information for dentists when trying to treat a patient with a toothache. By understanding the pathways from the tooth to the brain, it can help to create more effective treatments.  As a result, your dentist in North Valleys can better determine if a cavity, infection, or another condition is the cause of your discomfort.
Don't Wait to Call Your Dentist
If a toothache has ruined your day, do not wait to see if your pain subsides. It is often a sign of a problem that needs immediate care, like an infection. To restore the health of your tooth and to give you the relief you need, it is best to call your emergency dentist right away.
About Sage Dental Care
Sage Dental Care focuses on providing high-quality dental care in a comfortable setting. We believe in always being there for our patients, even during emergencies. If you have a toothache, we will find the cause to provide you with the treatment you need. Do not wait. Contact our office today!