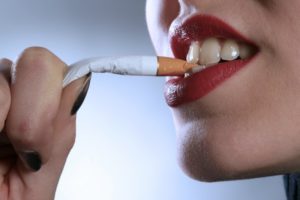 It's no secret that smoking or chewing tobacco is harmful and can lead to multiple forms of cancer, gum disease, leukoplakia (white spots inside the mouth) and other maladies. Still though, if you have an addiction, those negative effects aren't always at the forefront of your brain. Because of the chemicals in these products that cause psychological and physical dependency, there are lapses in judgement. That's why it's important to seek help from a professional like your dentist in Reno to provide a positive perspective and guide you to wellness with preventive dentistry.
Do Patients Want Their Dentist's Help?
In a recent study involving patients who were smokers, 72% said their student dentist should talk to them about their tobacco usage. Furthermore, supporting the notion that patients want more input from their dentist, 88% said that they want to be informed that tobacco use can lead to periodontal (gum) disease and oral cancers. In another poll, 67% said they want their dentist to advise them to quit and provide cessation tips.
This is welcoming information for your dentist, who always has to walk a fine line between providing the best care without overstepping his boundaries when providing information on the dangers of certain lifestyle choices. The fact that patients want more engagement, opens the door for better overall health.
Consequences of Tobacco Use
As previously mentioned, tobacco use can lead to oral cancer and gum disease, but here are some other facts to keep in mind:
Bone and Tissue Damage – Tobacco products affect the attachment of bone and soft tissue to your teeth.
Bad Breath – The chemicals used in tobacco products also lead to bad breath because they encourage the growth of bacteria.
Stains – You can also expect deep staining from chewing or smoking tobacco that goes beyond the enamel level into your dentin.
Techniques to Prevent Smoking
Remove Reminders – One thing you can do is get rid of items that remind you of smoking like ashtrays, lighters and matches. You can also freshen your car's interior to remove the smell left behind by your usage of tobacco products.
Write Your Intentions – It always helps to write down your "why." List the reasons that quitting are important to you and reflect on them when you feel tempted.
Know Your Triggers – Take note of the situations or even people that trigger you to want to smoke. Then seek ways to avoid these encounters. It's also helpful to investigate ways of making behavioral changes as to how you respond to stressors. For example, you can incorporate a new exercise regimen into your life.
Talk to Your Dentist – Now that you have opened the door for help, feel free to talk to your Reno dentist about your temptations to smoke to get the guidance and encouragement that you need to keep pushing ahead.
Semi-Annual Dental Visits – When you visit your dentist for six-month appointments to get an examination and cleaning, you can recharge your resolve to remain tobacco-free because you'll have shiny, clean teeth and a fresh mouth.
It's important to not beat yourself up over your travails with tobacco use. Just remember that you're not the only person dealing with such issues and that your will to overcome and lead a healthier life will prevail in the end.
About the Author
Josh Branco, DMD received his undergraduate degree from the University of Nevada and then went on to earn his Doctor of Dental Medicine degree from Boston University. A member of the American Dental Association, Dr. Branco practices at Sage Dental Care and can be reached for more information through his website.