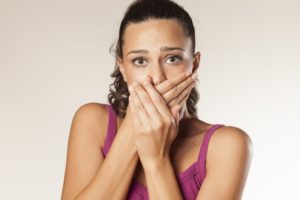 You took a fall off of your bike a few weeks ago, but you weren't really injured. However, lately you've noticed a change in the appearance of your front tooth. It is very subtle, but it appears to be getting darker. Are you going crazy? No one else seems to notice. Should you contact your dentist? The answer is – yes. Always contact your dentist if you are noticing changes in your teeth or oral health. Your tooth may be dying and here's what that means and what you can do.
What is a Dead Tooth?
If your tooth suffers from decay, an infection, trauma, or injury, it may cause it to die. A dead, or non-vital tooth no longer has proper blood flow. This can lead to different levels of pain, from none at all to a severe toothache. It may also cause your tooth to become discolored so it could appear yellow, gray, or black. Discoloration may increase if the tooth is left untreated.
How is a Non-Vital Tooth Treated?
If you notice changes in your tooth, even if you are not experiencing pain, it is important to have your tooth examined by your dentist. If your tooth becomes infected and it's left untreated, it could spread to other teeth or affect your jawbone.
Your dentist will use an x-ray to determine if your tooth is still vital and root canal therapy may be recommended to remove the infected tissue from within your tooth, while also preserving your natural tooth structure.
If your tooth has been infected or traumatized beyond what a root canal can repair, an extraction may be necessary in order to protect your other teeth and your oral health.
Protecting Your Teeth
You can prevent tooth decay and keep all of your teeth healthy and vital with consistent visits to your dentist every six months. Your dentist can detect decay in its earliest stages, which will allow you treat it early on with a dental filling.
Preventing trauma or an injury can be more challenging. However, ensuring that you have the right mouth guard if you participate in sports will help protect your teeth and mouth from injury.
If you've noticed any changes with your teeth or oral health, call your dentist today to arrange for an examination.
About the Author
Dr. Josh Branco and Dr. Ah Young "Annie" Kim are your husband and wife dental team at Sage Dental Care in Reno, NV. This highly skilled team works together to provide high quality dental care in friendly and caring atmosphere that ensures our patients have an excellent experience each time they visit.
If you would like to reach our doctors you can contact Sage Dental Care through our website or by calling 775-677-0790.