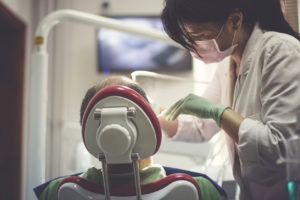 If you want a beautiful smile—and most people do—you need to put your gum health first. Your dentist in Reno wants patients to understand why gum health is so important and keep you far from it's biggest threat: gum disease. Learn more about it's beginning stage (gingivitis) and how to ward it off altogether here.
Get a Better Understanding of Gingivitis
You will know if your gums are healthy, in good shape. They will be pink, firm, and strong. When gingivitis sets in, it causes your gums to become inflamed, swollen, and red. This is the earliest stage of gum disease and is actually a very common condition among American patients. The symptoms you should pay attention to are:
Red gums
Swollen gums
Gums that bleed when cleaning your teeth
Tender gums
Receding gums
Bad breath that won't go away
Gingivitis should not be left untreated because it can quickly progress to a more serious form of gum disease—advanced gum disease also known as periodontal disease.
Get a Better Understanding of Gum Disease
Gum disease in its advanced form is a serious infection of the gums that can lead to severe oral health concerns. Patients with gum disease develop pockets of plaque, tartar, and bacteria between their teeth and gums. These pockets become deeper over time and can cause tooth loss, overall health concerns even like heart disease.  Here are some of the signs of advanced gum disease to look out for:
Bright red, discolored looking gums
Receding gums that show the roots of your teeth
Swollen, tender gums
Severe bleeding of the gums
Irregular spaces within the teeth
Chronic bad breath
A bad taste in the mouth
Pus between the teeth and gums
Extremely loose teeth
Warding Off Gum Disease with Great Hygiene Practices
As mentioned above, a healthy smile starts with healthy gums. You can keep your gums strong and healthy these ways:
Maintain good oral hygiene by brushing and flossing your teeth daily.
Replace your toothbrush regularly, meaning every 3 months or when the bristles become frayed.
Visit the dentist every six months to have your smile professionally cleaned and gums examined.
Stop using tobacco products as they will make your teeth and gums susceptible to many health concerns.
Manage your medications because there are many that can cause chronic dry mouth (a cause of gum disease and tooth decay).
Manage your health conditions because they can cause your immune system to become compromised.
Follow a healthy diet and avoid added sugar to avoid other health concerns that can decline oral health.
Get Help from Your Dentist
Your dentist is here to help you every step of the way when it comes to oral health. Whenever you notice bleeding or tenderness when you brush and floss your teeth, you need to visit your dentist right away. Learn more about periodontal therapy by speaking with your Reno dentist.
---
About Our Office
Your dentist wants you to experience the difference between exceptional dentistry and any other office visit you've had before. When you choose to visit Sage Dental Care, you'll notice the difference between proactive preventive care that will keep your smile healthy for years to come and regular dental services that address your concerns as they come. Stay two steps ahead with our friendly, advanced office team!