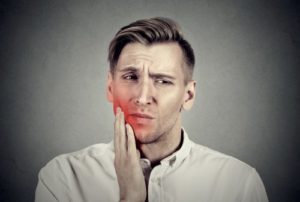 You're enjoying a delicious dinner when you suddenly notice an unusual crunching in your mouth. Don't blame your spouse for putting rocks in your food! It's possible that one of your fillings fell out. When this happens, it's important to visit your emergency dentist in North Valleys as soon as possible. Why do you need to receive care right away?
Delay Can Lead to Serious Problems
You received your filling in the first place because there was a measure of decay in one of your teeth. The filling stopped the decay from spreading and protected the sensitive pulp inside your tooth. Without that barrier between your damaged tooth and the bacteria that enters your mouth, you become vulnerable to worsened decay.
If you don't get to your dentist as soon as you're able, you risk infection, pain, and other serious oral health problems. Extended delays could even lead to tooth extraction.
Your dentist in North Valleys may replace the filling with a new one. It's also possible that they'll re-insert the filling that fell out if it can be repaired. However, in some cases, you might need to receive a crown to protect the entire tooth from further damage.
What Should You Do in the Meantime?
Most of the time, your emergency dentist will be able to schedule you for a same-day appointment. However, if your dental crisis occurs outside of office hours or for some other reason you can't receive care right away, take the following steps to protect your tooth:
Gently brush around the tooth and rinse with mouthwash. This will help fight bacteria that could worsen the problem.
Rub a bit of clove oil on your teeth and gums. This will numb the area and relieve your discomfort. You can also use painkillers like Tylenol or ibuprofen.
Use dental wax around the tooth to temporarily shield it.
Chew food on the side of your mouth that didn't lose the filling.
Avoid foods and beverages that could cause pain or increase plaque production in your mouth, such as sugary foods or extremely hot or cold foods.
Also, try to hold onto the filling that fell out. If your dentist determines that it's possible for it to be reinserted, you may save money on the cost of treatment.
What If You're Not Sure What Happened?
You might not even know that a filling fell out. However, if one of your teeth is suddenly very sensitive to heat and cold, or if you have a new pain in your mouth, it's possible that you lost a filling. Don't ignore the problem. Perhaps a filling didn't fall out, but if you sense something isn't right in your mouth, you should still make an appointment to see your dentist as soon as possible.
A lost filling is no minor issue, but your dentist can repair your tooth and get your oral health back up to snuff.
About the Author
Dr. Josh Branco is a Nevada native who has knowledge and experience in many aspects of oral healthcare. He and the rest of the team at Sage Dental Care are ready and willing to help out during dental emergencies. If you lose a filling or have other concerns about your teeth or gums, contact our South Reno location at 775-409-4282.