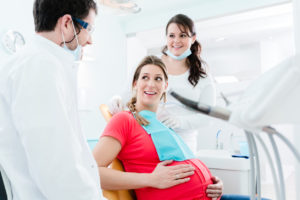 The human body is truly amazing. It can take DNA from two people and develop a whole person all within one person. As you can imagine, the woman's body undergoes numerous changes—from her hormones to simply the way she walks as her baby grows within her. But did you know even her oral health will change? In fact, women who are pregnant become high-risk dental patients that need to visit their dentist in Reno, either Dr. Josh Branco or Dr. Ah Young Kim, more than twice a year.
The Relationship Between Pregnancy and Gum Disease
The hormonal changes affect the woman's body, even her mouth. These hormonal inconsistencies caused by pregnancy can change the way your gums react to dental plaque, causing them to become sore, inflamed, and easily irritated. Research has also shown that pregnancy can increase the amount of bacteria present in your mouth. It's critical to maintain a consistent dental care routine of brushing and flossing while pregnant. If you notice these symptoms in any stage of your pregnancy, you should seek gum disease therapy as soon as possible:
Red, swollen gums
Tender gums
Bleeding when brushing or flossing
Buildup of pus between gums
Loose fitting teeth
Receding gums
Pockets of infection along your gum line
Chronic bad breath
There are studies that show a relationship between periodontal disease (advanced gum disease) and premature or under birthweight babies. It's important to maintain pink, strong gums to keep you and your baby healthy.
Morning Sickness and Oral Care
Every pregnancy is different. Some woman experience more difficult symptoms than others. If you suffer from morning sickness, brushing your teeth can seem like a nearly impossible task, since the mere smell of the toothpaste can make you woozy. That doesn't make it any less critical to your oral health. If you can, try to get a more mild-smelling toothpaste that may be easier to tolerate. At the very least, brush using water and baking soda. Avoiding brushing altogether will just deteriorate your smile at a faster rate.
An even more serious threat to your teeth is the acid that covers your mouth—teeth, gums, and tongue—when you experience morning sickness. If left stay on your teeth, it can erode your enamel and quickly escalate to tooth decay. Whenever you have a morning sickness episode, rinse your mouth out with water. This will remove and neutralize majority of the acid, then brush your teeth to remove the rest of it.
Caring for Your Teeth While Carrying a Baby
One thing any dentist will tell you is that you should avoid getting any severe dental work done during your first and third trimesters. Dental work done during the second trimester of pregnancy has been shown to be safe for both mother and child. Because dental x-rays do expose patients to a small amount of radiation, we don't recommend getting any taken while pregnant.
Sage Dental Care can still help you in other ways. If you have any questions that pertain to your oral health or even preparing for how to take care of your baby's mouth, contact us. Your Reno dentist would be more than happy to assist you through this new and exciting time in your life!