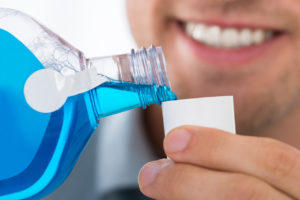 When you think of taking care of your teeth at home, what do you think of? Like most people, you probably envision brushing and flossing twice a day. And while we at Sage Dental Care, your trusted dentist in North Valleys, are thrilled to know this is what you think of, we'd like to provide you with the third element of your oral hygiene trifecta: mouthwash. This product not only makes your breath fresh and your mouth feel clean, it can also help prevent cavities and treat other common dental issues. Learn more about the best ways to use mouthwash from our team in this post.
What Benefits Does Mouthwash Have?
As your compassionate North Valleys dentist, Dr. Josh Branco and Dr. Ah Young Kim like to teach their patients that mouthwashes and rinses can do a lot to protect and improve your smile. There are special versions of these over-the-counter products that help with the following:
Preventing cavities with fluoride
Whitening teeth with lightening agents
Preventing gum disease with antibacterial additives
Addressing sensitivity and discomfort with special formulas
Treating dry mouth which leads to tooth decay
And, if you have more severe dental issues like periodontal disease, we can prescribe medicated mouthrinses that can treat and reverse the symptoms of these advanced gum problems and prevent tooth loss and the need for costly, time-consuming dental procedures.
How Should I Use Mouthwash?
You can get the most from your mouthwash with the following strategies from Dr. Branco and Dr. Kim:
Generally speaking, people should use about 4 teaspoons of mouthrinse each time.
Rinse for thirty seconds, swishing the mouthwash in between teeth and throughout the entire mouth.
Use your mouthwash as the last part of your oral hygiene routine – don't rinse your mouth with water after using mouthwash, since this washes away the benefits of the product.
Kids under the age of 12 should usually avoid mouthwash, since this can easily be swallowed and lead to dental fluorosis or an upset stomach.
Avoid mouthwashes with alcohol in them, since this increases dry mouth and allows oral bacteria to flourish.
Look for mouthrinses that have the American Dental Association (ADA) seal of approval to make sure you're using a quality option.
The guidelines above are suggestions that we offer to most patients using over-the-counter products. Always be sure follow the directions as listed on the bottle and take care to follow the instructions we provide on the prescription label if we've specifically given you a medicated, professional strength mouthrinse.
Now that you know why mouthwash is the perfect addition to your at-home oral hygiene routine, give us a call or schedule an appointment with Sage Dental Care to talk about the products that are right for you!